Policy
18 August 2019
A circular economy is necessary to minimise landfill, increase resources recovery and protect our natural environment. A strong local reprocessing sector will also generate new jobs, support the economy and safeguard Australia from international developments such as China's National Sword. Mike Ritchie outlines the key drivers for a strong Circular Economy in Australia.
Policy
16 August 2019
MRA welcomes the involvement of the Prime Minister and Premiers at the 9 August 2019 COAG to resolve the many difficulties facing the recycling and waste management sector.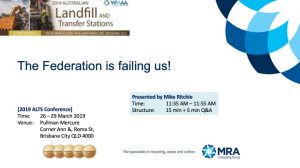 Policy
2 April 2019
Mike Ritchie attended the 2019 Australian Landfills and Transfer Stations Conference and delivered a presentation on how differences in legislation, targets and data between states is hindering resource recovery in Australia.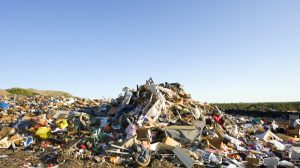 Policy
10 October 2018
Responding to Australian Government Department of Environment and Energy's request for feedback on priority issues to be considered in future Australian waste management and resource recovery, MRA has prepared a submission to the 'Updating the 2009 National Waste Policy' (NWP) discussion paper.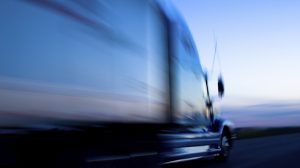 Policy
16 April 2018
By MRA Consulting Group The waste and recycling industry strongly supports the reintroduction of a waste levy in QLD to grow recycling in QLD and limit the continuing movement of over a million tonnes of waste from Sydney to SE QLD. MRA Consulting Group Managing Director Mr Mike Ritchie today said "I congratulate Premier Palaszczuk […]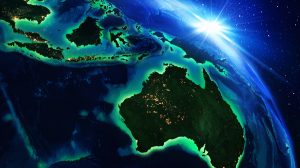 Policy
24 January 2018
On 15 October, the United Nations Environment Program (UNEP) released a copy of its report 'Towards a pollution-free planet'. The report links consumption to waste and then to pollution, with one of the five key messages being: A new approach to managing our lives and economies: sustainable consumption and production, through improved resource efficiency and lifestyle changes, should be promoted; waste reduction and management must be prioritised.
Policy
3 October 2017
The Waste Management Association of Australia (WMAA) Waste of Origin pledge is an excellent initiative taken by industry to resolve a problem that others will not. The problem of waste flooding in to Queensland landfills to take advantage of the fact that no landfill levy exists in the state.
Policy
16 August 2017
According to an ABC report on the 8th of August, the Queensland Premier was "horrified" to hear of the extent of dumping of waste from NSW in Queensland. The Queensland government was "not aware … until it was highlighted on the Four Corners program…"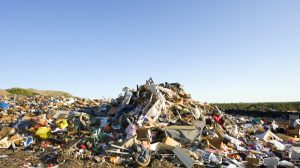 In the Media
15 August 2017
A Four Corners waste industry exposé highlighted legitimate and serious problems, but was grossly unfair to NSW senior bureaucrat Steve Beaman, according to a leading environmental consultant.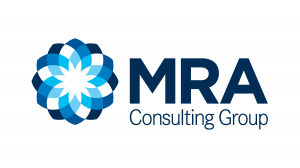 In the Media
8 June 2017
Mike Ritchie talked to ABC's Sarina Locke about the effect of QLD waste levy cancellation on NSW waste. The full article titled "Sydney Markets sends rotting fruit and vegetables to generate electricity in war on waste" is available on the ABC website and below. Sydney Markets declared its own war on waste 12 years ago […]
Policy
22 May 2017
Queensland recently released its 2016 Waste and Recycling Report. The report refers to a number of incremental gains in landfill diversion, but the headline number is the 40% leap in the tonnes of waste received at Queensland landfills from interstate.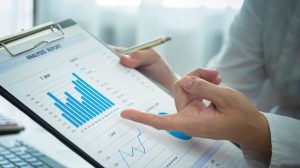 Policy
29 March 2017
By Mike Ritchie, MRA Consulting Group The Australian State of the Environment (SoE) 2016 Overview was tabled in Parliament on 7 March 2017. The previous SoE was in 2011. The SoE concludes that: "Despite an overall increase in waste generation, Australia's total disposal tonnage decreased from about 21.5 megatonnes to about 19.5 megatonnes (about 9.5 […]