Event
10 June 2022
The 2022 Coffs Waste Conference has come and gone and with everyone back at the office, we managed to have a quick debrief. What everyone agreed on was that it was great to physically be back in a room with all our peers.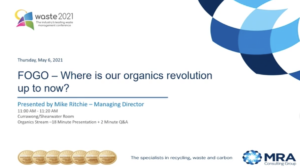 Event
6 May 2021
Once more, MRA made its presence felt at the Coffs Waste conference.
Circular Economy
23 October 2019
MRA was pleased and honoured to sponsor the 2019 NACRO Conference, helping to bring together the like-minded people willing and able to collaborate on solving what is possibly THE most important problem of the century.
Event
11 July 2019
In early July 2019, MRA took over a stall at the Northern Beaches Swap for Good Expo to promote the NSW EPA Bin Trim Program and discuss waste reduction opportunities with local businesses.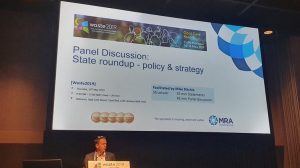 Event
24 May 2019
The Coffs Waste 2019 conference has been and gone. MRA attended in force with input in five sessions. Click through for presentation videos and Mike's comment on the conference.
Event
28 March 2019
Mike Ritchie will present on "Removal of food and organics from waste to landfill – prospects and issues" at ASBG's Queensland seminar in Lidcombe on 12 April 2019. Read on for the full program and to learn how to get the MRA client discount.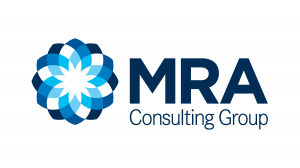 Event
20 February 2019
On Tuesday 2 April in Melbourne and Thursday 4 April in Sydney, Dave and Mike respectively will be presenting and participating in the Targeting Zero Waste Seminars event organised by the Green Building Council of Australia. Book by 19 March using the code WASTE20 for a 20% discount.
Event
27 August 2018
By MRA Consulting Group On the morning of Thursday August 30, Mike will be moderating a panel discussing the changing environment faced by the Australian waste industry. The discussion will focus on China's National Sword, NSW 'Return and Earn' CDS, Queensland's forthcoming landfill levy and the options and opportunities available to local government and waste […]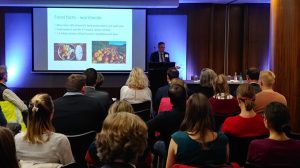 Event
14 August 2018
MRA's Mike Ritchie was very pleased to have been invited to contribute to the Environmental Professionals Forum's (EPF) UnEaten Matters evening on the 8th of August. Mike moderated a panel of professionals to discuss the complexities of food waste.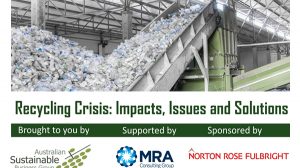 Event
29 March 2018
Waste Recycling is under threat from many directions and urgently requires practical and cost effective solutions. Actions are underway to better manage this international issue, but there are many local challenges.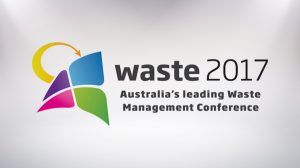 Event
16 May 2017
This year's Waste Conference had the largest array of exhibitors than any year before. MRA's Charlotte Wang visited 45 exhibitors to get a feel for what's up and coming in the waste collection and processing sector.
Event
11 November 2016
By MRA Consulting Group MRA Consulting knew Leslie Mallinson was a champion in the fight against Marine Debris when she joined us last year. Her experience working with the Education team at ReefHQ Aquarium in Townsville led her to see firsthand the impacts marine debris can have on our wildlife, as sea turtles that ingested […]