Circular Economy
16 June 2021
The NSW Waste and Sustainable Materials Strategy 2041: (Stage 1 – 2021-2027) has endorsed diversion of organic waste from landfill to deliver substantive reductions in greenhouse gas emissions from NSW landfills.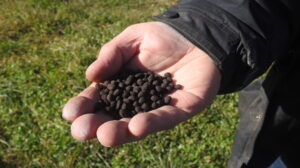 Compost
19 May 2021
MRA recently completed a trial application of pelletised compost down the tube of an airseeder. Results show an increase in crop yield and profit per hectare.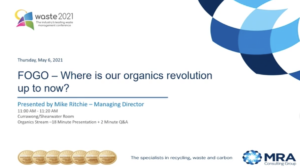 Event
6 May 2021
Once more, MRA made its presence felt at the Coffs Waste conference.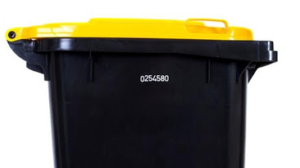 Circular Economy
9 April 2021
Federal Environment Minister Susan Ley supports standardised waste collection systems, including a common bin lid colour across Australia. We propose to also standardise the colour of the bin's body to maximise recycled plastic use.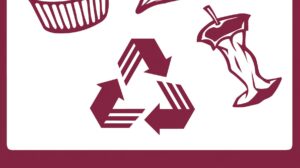 Circular Economy
9 April 2021
More and more councils now collect FOGO at the kerbside. Will three bins become the new standard?
Circular Economy
1 March 2021
The single biggest greenhouse gas emissions decision you will make as Mayor, is "Are we still sending organic waste to landfill?"
Circular Economy
24 December 2020
Karinne Taylor critically reviews the House Committee on Industry, Innovation, Science and Resources report "From Rubbish to Resources: Building a Circular Economy".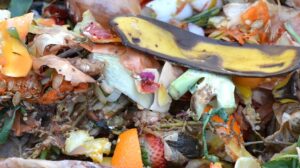 Circular Economy
15 December 2020
Landfilled organics result to significant GHG emissions and a waste of valuable nutrients. Banning the landfilling of household and commercial food and garden waste would stimulate jobs growth, divert millions of tonnes from landfill, generate compost, sequester carbon in soils and reduce Australia's GHG footprint.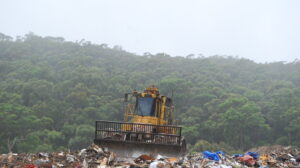 Policy
10 December 2020
Australians want to take care of the environment. We have set a national resource recovery target of 80% by 2030. How do we achieve these goals? Well, we cannot go wrong with a nationwide landfill levy.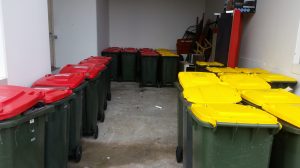 Policy
27 November 2020
Waste is 'waste' by definition of the fact it is discarded. The generator has to pay someone to get rid of it. Ιt will only become a 'resource' when it is separated, sorted, cleaned-up and is available as an input to another process.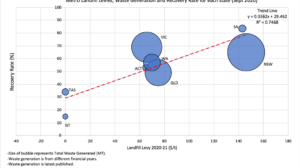 Policy
23 November 2020
Landfill levies may be blunt instruments but they have also shown their effectiveness in Australia. Waste generators have a binary decision to make. Recycle or landfill. More often than not, it comes down to price. To meet our 80% diversion from landfill target, we need to make the answer to that question simple and ever present.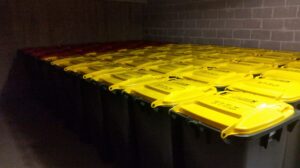 Recycling
8 November 2020
In the days before CDS, containers made up half of the volume of most Australian kerbside bins. Post-CDS, yellow top bins are not as full anymore. That creates opportunities for new products to go into the yellow bin system. Mike Ritchie discusses our options for increasing recycling.