29 October 2020
FOGO is driving real reform in Australia
The NSW DPIE conducted an excellent review of FOGO performance across 34 Councils in NSW. Average performance is a poor indicator of the trends in FOGO so Mike Ritchie, re-analysed the data to look at individual Council performance and summarised his findings in an informative article.
By: Mike Ritchie, MRA Consulting Group
Perth, Adelaide, Melbourne have now all adopted FOGO (Food Organics, Garden Organics) collection from households, as a means of achieving the National 80% diversion from landfill target (by 2030) and real greenhouse gas reductions. NSW regional Councils have been early adopters along with Penrith in Sydney.
The NSW Department Planning Industry and Environment (DPIE) with Mark Rawson have conducted an excellent review of FOGO performance across 34 Councils in NSW. The report provides some useful insights into FOGO performance.
I re-analysed the data to look at individual Council performance (rather than average performance) because averages don't tell the true story of who is performing well. I thought it would be instructive to summarise it for readers.
The Councils were anonymised by DPIE so I don't know who they are. (But readers from Councils will be able to identify themselves from the codes below.)
Average performance is a poor indicator of the trends in FOGO
There is a wide range of performance in FOGO diversion from landfill and contamination rates. FOGO is new – with 15 of the 34 Councils having had FOGO for less than 1 year or were still in a trial period.
The best performers have all had FOGO in place for more than a year and have had time to bed in the system with education and engagement.
The capture rates
The best performing Councils are achieving 98%+ GO and 70%+ FO capture effectiveness. The three "best performing Councils" U, N, L and G (refer Figure 1). These have average Food (FO) capture rates 78, 50, 57 and 61% respectively.
Overall efficiency of the best performers including other organics is above 85% and as high as 89%.
Many Councils accept material other than Food (FO) and Garden (GO) in the service. More than 25% of the material captured was "other organics" (such as wood, cardboard and newsprint) but still accepted in the FOGO service.
All Councils are achieving over 90% GO capture rates.
25 Councils are capturing less than 50% of the FO. These are mainly new services (less than 1 year) or trial services.
Councils who have installed FOGO services but are capturing less than 50% of the food are missing a huge opportunity to save money. They are bearing the costs already of collecting weekly FOGO but are sending more than 50% of the food to landfill and still paying landfill fees (and levies) on this. A community engagement program of the sort run by Albury "Halve Waste" would lift the food capture rates.
Ranking the above data for food (FO) efficiency specifically, provides a clearer picture on the opportunity to improve performance.
Specifically, Councils on the left hand side of Figure 2 (T, F, C, E, O – through to N) would benefit from more extensive community engagement programs. They are all collecting FOGO bins at higher costs, yet recovering less than 40% of the available food (FO). This is mainly because the services are new and people are getting used to them. On the positive they are recovering 90%+ of GO.
6 Councils are capturing above 60% FO which is excellent.
The top 3 are Councils Y, K and U.
U is achieving 78% FO capture, the best in NSW.
(I will be fascinated to find out who these Councils are. Knowing the recovery rates I suspect a couple are our existing clients. Let me know!)
The Contamination rates
The best performers all have contamination levels below 2% and as low as 0.04%.
The average contamination across all Councils is only 2.2%
I often hear people say that FOGO will be heavily contaminated. It isn't. It is one fifth of the kerbside recycling contamination rate (average contamination in FOGΟ is 2.2%, compared to 10% in kerbside recycling). I suspect the reason for this is that FOGO is 'simple'. People know what is organics and what isn't. That is not true for kerbside container recycling. There are so many different arrangements, labels etc that people get confused with yellow top bin systems. FOGO on the other hand is simple and people seem to care.
The best performers
If you are Councils Y, K, U, N, L or G you have bragging rights. Let me know who you are and I will write a follow-up article on the reasons for your successes. Then we can all learn.
If you are at the lower end of the pack there is help available. DPIE is developing an education campaign and MRA has worked with many of the top performers.
The conclusions
3 bin FOGO is rapidly changing our recycling performance. Nationally we recycle 56% of materials generated. The target is 80% by 2030. That has been endorsed by the Federal, State, Territory Governments and Local Councils.
60% of what a household generates is FOGO material.
Introducing FOGO is the single most important action a Council can take to contribute to the 80% target. (Followed by EfW).
Organics currently going to landfill generate 9 MT/yr of landfill greenhouse gas emissions. That is 2.7% of our national GHG emissions.
Our farmers need the compost more than our landfills do.
As always, we welcome your feedback on this, or any other topic on 'The Tipping Point'.
---
This article has been published by the following media outlets: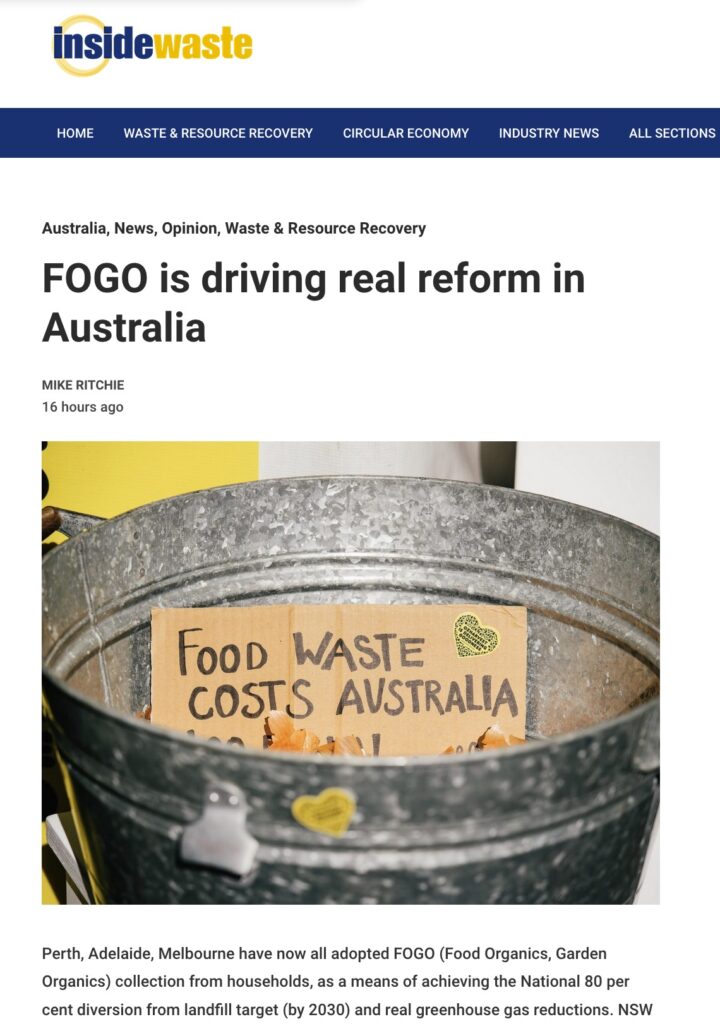 ---
---