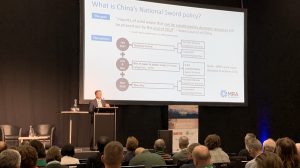 MRA News
8 November 2018
The annual WasteMINZ Conference (5-8 November 2018) is wrapping up in Christchurch at the Air Force Museum of New Zealand and Mike was amongst the first to present on its second day. Mike outlined the challenges and impacts of China's National Sword policy on local recycling markets and described the industry's current and potential responses.
MRA News
24 October 2018
MRA's Mike Ritchie presented yesterday at the International Solid Waste Association 2018 World Congress held at Kuala Lumpur. Mike's presentation focused on China's National Sword and its impact on Australia's recycling.
MRA Projects
20 April 2018
The Australian Council of Recycling (ACOR) believes that China National Sword offers a once in a generation opportunity to 'reset' Australia's recycling systems to achieve improved resource efficiency and enhanced economic outcomes. ACOR has summarised its approach under three key focus areas: investment, improvement and innovation.