19 May 2022
IPCC Report paints grim picture
The recently released Intergovernmental Panel on Climate Change reports paint a grim picture of the impacts of climate change and the pervasive lack of substantive action to combat it.
By: Mike Ritchie, MRA Consulting Group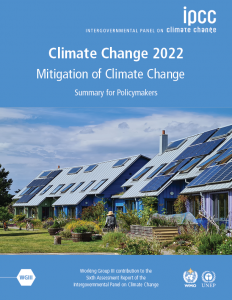 Stripping back the scientific jargon, here are some of the most important bits:
The rise in weather and climate extremes has led to some irreversible impacts as natural and human systems are pushed beyond their ability to adapt.
The extent and magnitude of climate change impacts are larger than estimated in previous assessments.
Widespread deterioration of ecosystem structure and function has occurred.
Climate change has caused impacts on human health, livelihoods and key infrastructure.
3.3-3.6 billion people live in contexts that are highly vulnerable to climate change.
Near-term actions that limit global warming to close to 1.5oC would substantially reduce projected losses in human systems and ecosystems but cannot eliminate them all.
Our current trajectory is for a 14% increase in emissions and a 3.2oC temperature rise by the end of the century.
Climate change impacts are becoming increasingly complex and difficult to manage.
If global warming transiently exceeds 1.5oC in the coming decades some impacts will cause release of additional greenhouse gas, and some changes will be irreversible even if global warming is reduced.
With increasing global warming, losses and damages will increase and additional human and natural systems will reach adaptation limits.
We have the technological options to halve emissions by 2030 but "Some government and business leaders are saying one thing — but doing another. They are lying"- António Guterres, Secretary-General of the UN.
Global Warming will irreversibly impact our world.
According to IPCC report co-chair Jim Skea, "It's now or never".
I am sure you have been thinking about the recent NSW floods and South coast bushfires as you read down the list. The misery and heartache caused by climate change. And we are just starting the journey.
We need to do better urgently.
I look to all Governments for leadership, planning and investment.
Yes, Australia makes a relatively small (1.3%) contribution to global greenhouse emissions. But per capita we are one of the world's highest emitters. We must go from laggard to leader.
We can turn climate change into a jobs opportunity. We can and must, create transition Plans for coal mining towns such as Lithgow and the Bowen Basin.
It is not that complicated.
Solar farms, wind farms, supporting manufacturing, smart grids, grid batteries, rooftop solar, household electrification, energy efficiency, bioenergy, electric vehicles, charging stations, tree planting, soil sequestration, recycling, circular economy, restorative farming and hydrogen facilities are just some of the job creating businesses that are part of the transition.
And of course, the waste industry. One of the few sectors that can punch above its weight. The waste sector contributes 3% of global emissions. In Australia, we are doing better at 2.7%. With maximum diversion to resource recovery, recycling and energy from waste (for the non-recyclable stream) Australia's waste sector can generate jobs and abate 50MT/yr of CO2-e through:
Organics diversion from landfill.
Landfill gas capture.
Increased recycling.
Energy from Waste.
Jobs, jobs, jobs. But I haven't seen a Plan yet. Have you?
Leadership. Not complicated.
---
Mike Ritchie, is the Managing Director at MRA Consulting Group.
---
This article has been published by the following media outlets:
---
---