Grants
15 January 2021
A number of resource recovery sector grants are currently open in NSW and Victoria.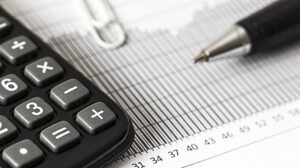 Grants
14 January 2021
A number of Australia wide resource recovery sector grants are currently open.
Circular Economy
24 December 2020
Karinne Taylor critically reviews the House Committee on Industry, Innovation, Science and Resources report "From Rubbish to Resources: Building a Circular Economy".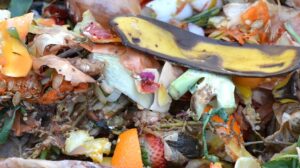 Circular Economy
15 December 2020
Landfilled organics result to significant GHG emissions and a waste of valuable nutrients. Banning the landfilling of household and commercial food and garden waste would stimulate jobs growth, divert millions of tonnes from landfill, generate compost, sequester carbon in soils and reduce Australia's GHG footprint.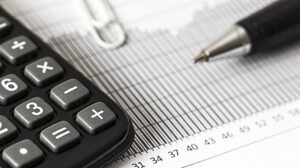 Grants
2 December 2020
Resource recovery sector grants have recently opened in NSW and Victoria while a recycling and clean energy Federal manufacturing grant is due to open soon.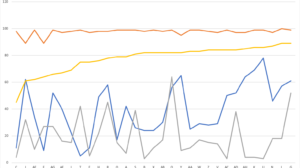 FOGO
29 October 2020
The NSW DPIE conducted an excellent review of FOGO performance across 34 Councils in NSW. Average performance is a poor indicator of the trends in FOGO so Mike Ritchie, re-analysed the data to look at individual Council performance and summarised his findings in an informative article.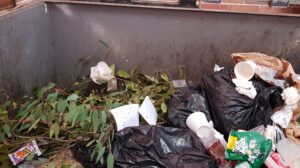 Policy
11 February 2020
MRA believes there are huge jobs, resource and carbon opportunities in recycling and waste management. In its submission to the Inquiry into Australia's Waste Management and Recycling Industries, MRA has identified some of the key requirements for capturing these opportunities.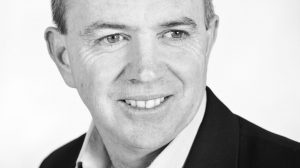 Carbon
6 February 2020
Projections show Australia is very unlikely to meet its current 2030 carbon reduction targets, with recent reports of increasing greenhouse gas emissions (GHG) from all sectors other than the electricity and agriculture industries. Australia needs to do more and the waste and recycling sector can lead the charge in emissions reduction.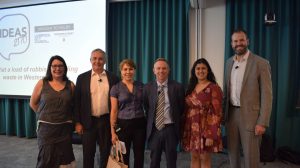 In the Media
20 November 2019
MRA's Mike Ritchie was invited to join the Ideas 2170 panel run by Liverpool City Council and Western Sydney University at WSU's CBD campus on 19 November 2019. Mike and the panel discussed key waste streams and options for improving waste management outcomes for local councils.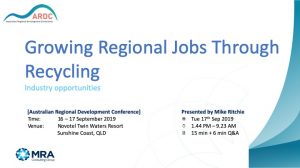 Policy
20 September 2019
For every job in landfill we create 3 jobs in recycling. For every 10,000t of waste we landfill we generate 3 landfill jobs vs 9.2 recycling jobs. Mike Ritchie explains how recycling can help grow regional jobs.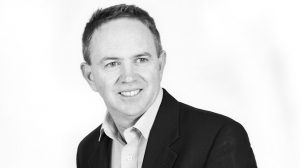 Policy
18 September 2019
The Australian Commonwealth has achieved a first. A Minister for Waste (and Environmental Management) was announced by the Morrison Government. In the 200 years since colonial settlement we have not had a Minister with Waste in their title. I hope that ushers in a period of attention and reform.
Policy
16 September 2019
Following up on his earlier Circular Economy article, Mike Ritchie reviews the European Union Circular Economy Action Plan report of 54 actions and adjusts those actions to propose an equivalent action list for Australia.