22 March 2022
Things everyone should know about waste and the Circular Economy
It always surprises me when governments announce waste/recycling policies which bear little resemblance to what is actually needed. But I blame myself.
By: Mike Ritchie, MRA Consulting Group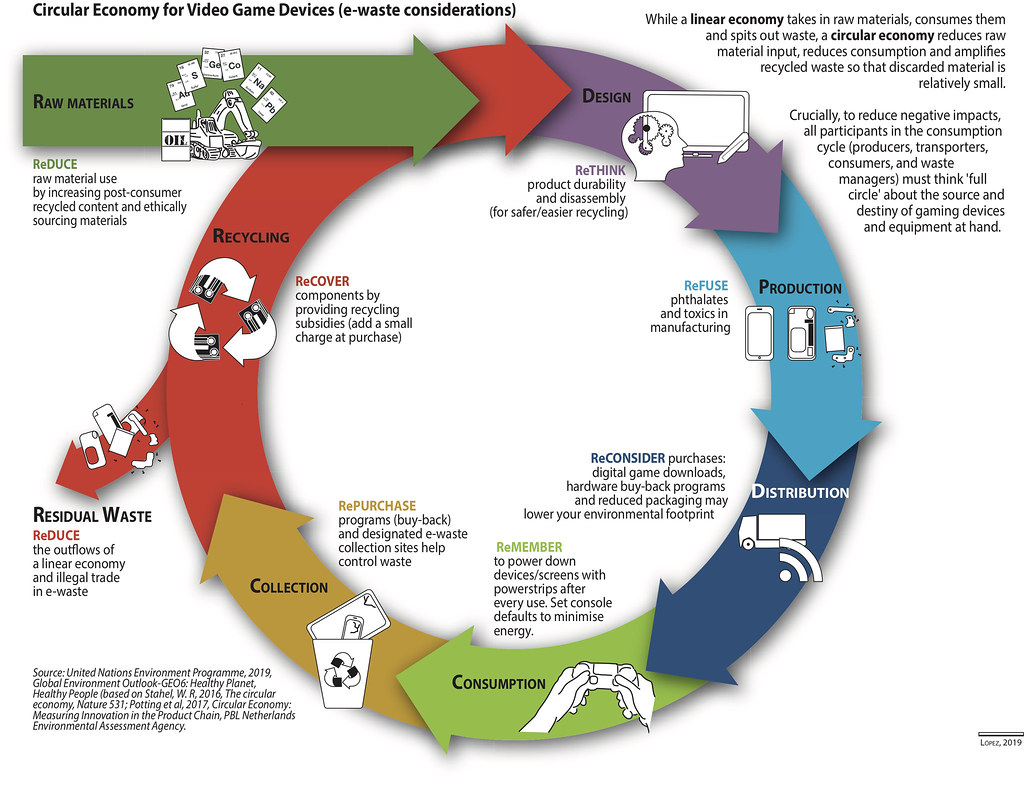 It means that I have not spent enough time providing evidence to politicians and their advisors, on what the migration to a Circular Economy actually requires.
I start from a position of achieving the National Waste Plan Target of 80% diversion from landfill by 2030 (as agreed by all Australian governments in 2020), as a key underpinning of a Circular Economy.
So here are some points that may be useful in shifting the debate (in no particular order):
Landfills are like big vacuum cleaners. The cheaper the price the more suction they have. And they don't discriminate between recyclables and residual waste. Cheap landfills are the main reason why we still landfill 40% of the materials we generate in the economy.
We currently recycle 60% (37MT; the easy and economic stuff) of the 61MT we generate. To hit the 80% Target we need to get recycling to 49MT (at today's tonnes ie 12 MT/yr more recycling). By 2030 we will likely need to recycle an additional 6 MT per year (to account for growth in waste generation). This requires that we double the historic rate at which we introduce new recycling systems (from 1 to 2 MT/yr). That means lots of infrastructure and jobs.
We generate 3 times the number of jobs in recycling than in landfill.
Household kerbside recycling represents only 1.9 MT out of 37 MT recycled. So recycling is not all about yellow lid bins. Having said that we still only capture about two thirds of the available kerbside recyclables and lose the rest into landfill. We need much better community education on why and how we recycle.
Most of the household waste to landfill is organics (50-60% on average). FOGO systems are designed to get that out. Less than 20% of households have access to FOGO.
Business generates 80% of Australia's waste. (Households generate 12.6 MT out of 61.5 MT). To grow business recycling we need to get better source-segregation on-site and better sorting of mixed waste (that cannot be source-segregated). That means getting the economics right. Most businesses will recycle that which saves them money and landfill the rest. Rational.
The economics of recycling are still not working. It is cheaper to landfill 40% of materials in Australia's economy (that is why we do it). It is either uneconomic to source-segregate, the material is mixed or the recyclables are not worth separating and transporting to markets. So, to get at the remaining 40% we either need 'price push' (levies and taxation) or 'demand pull' (market development and mandated purchasing policies) or both. And of course, these recyclables are the more expensive to recover. All the easy to recycle materials (lower $/t) are already being captured.
Our priorities need reordering. We currently landfill 7 MT/yr of organics, 6 MT of mixed C&I and 6 MT of mixed C&D. These include 2.4 MT paper and cardboard; 2.2 MT plastic; 0.7 MT textiles; 0.5 MT glass, 0.5 MT metal; 0.1 MT tyres. For a sense of scale the National TV and Computer EPR scheme recycles 0.02 MT /year and it is the only mandatory EPR scheme in Australia. All Container Deposit Schemes (CDS) will recycle 0.5 MT/yr when fully rolled out. Our main focus for structural reform needs to be Organics and Mixed Commercial waste (for now).
Only 16% of all plastic waste generated in Australia is recycled because the remainder is not viable. Because it is light, has low commodity value when used or dirty, or is contaminated by other materials, most plastic is currently uneconomic to recycle. 84% or 2.6MT currently goes to landfill. Plastic is inert in landfill and does little harm, but it is a massive waste of resources and embodied energy. The bigger problem with plastic is littering and the pollution it causes. We need to collect it, separate it, build a national reverse logistics system and processing capacity and turn it into reusable plastic pellets that the market can use and wants. Only government has the levers to make that happen. Like all recycling, industry will invest and do the heavy lifting, but only when their business models are viable.
Levies create the economics for recyclers to be able to compete with landfill. To grow recycling further (more difficult and expensive recycling) we need to either make recycling more competitive with landfill (levies or subsidies), or mandate source segregation (e.g. 'thou shall have an organics collection system') or ban material from landfill (e.g. organics bans to landfill- such as Europe has had for 30 years).
The export bans affect 1.2 MT or 3% of Australia's current recycling. That has stimulated infrastructure development for plastic, fibre and tyres. We need to build on that.
Recycling provides excellent emissions abatement. The sector already abates about 40 MT of CO2-e through the embodied energy of recyclate. We could abate an additional 50MT or almost 10% of Australia's 580 MT CO2e emissions by recycling right and reducing organic waste to landfill. That is relatively cheap, popular and practical abatement.
Total waste generation is growing at about 2.5% /year and is linked with economic and population growth. We have so far been unable to decouple economic and population growth, from waste growth.
Per person waste generation has fallen by 3.3% over the last 13 years but unfortunately this reduction is not due to reduced consumption but by a faster rising population. It is a mathematical effect. The Target is a 10% per capita reduction by 2030. That is almost out of reach.
Product Stewardship can create specific market pull by making producers responsible for the end of life of their products. These tend to be limited to specific materials which can be easily tracked and managed (e.g. TVs/computers, CDS as mentioned above, batteries, child car seats etc). The tonnages are therefore limited.
Energy from Waste (EfW) will at best take up 4 MT of waste or 6% of waste generation in the next decade. It won't cannibalise recycling where recycling is viable, since it is much more expensive than recycling. But where recycling is not viable, then disposal becomes a binary choice between landfill and EfW. EfW has the added advantage of providing baseload power (stabilising the grid) and significant greenhouse gas benefits over landfill. More to the point, by far the bigger problem is that cheap (underpriced) landfills cannibalise recycling right now. Hence the need to fix the economics quickly.
It takes an inordinate amount of time to get recycling infrastructure approved. No-one wants a waste facility next door to them. Departments of Planning need to recognise this and step up with specific planning instruments for recycling and resource recovery.
Very few State and Local Government Waste Strategies provide the maths as to how the Targets will be achieved. What tonnes in which waste stream are to be diverted, and how? This should be a key part of the National Waste Action Plan.
Recycling/Resource Recovery is one of Australia's fastest growing manufacturing sectors. It employs 50,000 people. We must consider it in Industry Policy, not just Environment.
If our public policy discussions were framed around the above, we would probably see fewer "vanity" projects and faster reform. A few targeted, structural interventions regarding the economics, planning and procurement will give us the chance of achieving the 80% Diversion Target and with it, a more Circular Economy.
---
Mike Ritchie, is the Managing Director at MRA Consulting Group.
---
This article has been published by the following media outlets: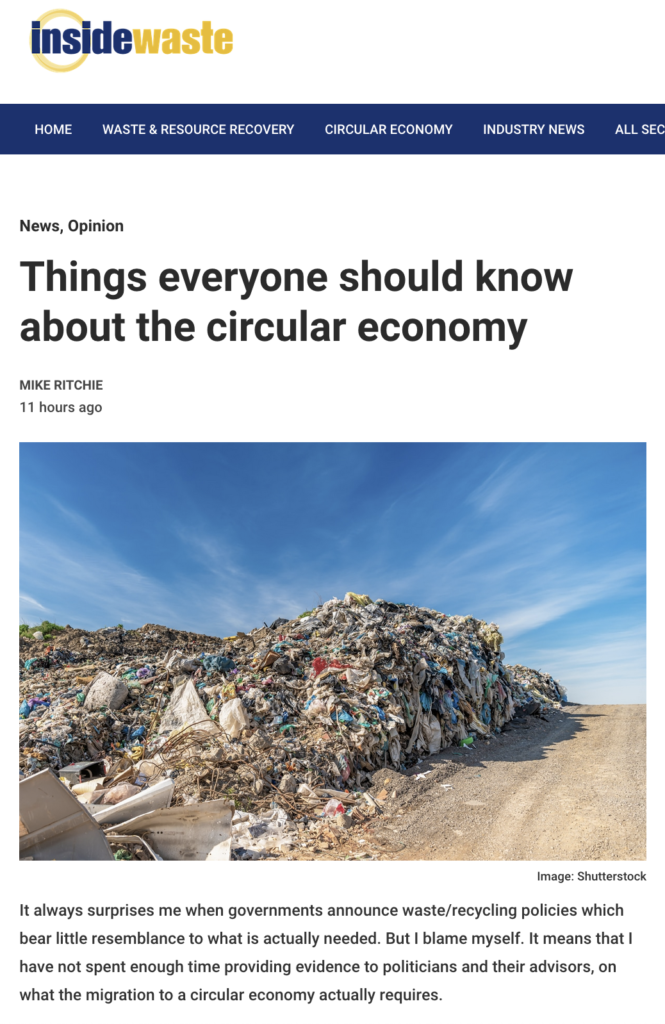 ---
---